At Airtower our core values are paramount to everything we do. High Integrity, Customer Service, Delivery Excellence, Innovation, Attention to Detail, and Staying Humble are just a few of the key principles we live by each day.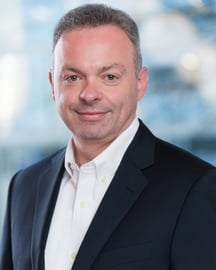 Oliver Valente |
CEO

Oliver Valente is an experienced technology, communications infrastructure, and telecom executive with over 30 years of leadership & operational experience ranging from private equity backed start up and mid sized businesses to Fortune 50. He participated at senior management level in two different companies sequentially from start up phase through $1B+valuations.
Prior to joining Airtower he most recently served as Executive Vice President & Chief Operating Officer for ExteNet Systems, the largest privately held neutral host operator in the U.S, for over 10 years from its early days through >$1B sale to new investors. Prior to ExteNet, Oliver served as Chief Technology Officer and Senior Vice President of Product Development for Sprint from its wireless inception through its valuation as a Fortune 50 company.
"Airtower Networks has successfully and exclusively deployed in-building wireless connectivity to over one hundred million square feet of properties for building owners, property managers, and enterprises throughout the United States. We are well-positioned to grow our in-building wireless business and expand with building owners, enterprises, and mobile network operators for 5G and beyond."
- Oliver
Manny Dureja |
Founder & President
Manny Dureja has spent his entire career in the wireless infrastructure industry beginning with the development of traditional macro cell towers while evolving to today a top expert on in-building wireless infrastructure with 20 years of experience behind him. Manny initially led Airtower to be named One of the Fastest-Growing Private Companies in America (Inc. 500) and One of the 10 Hottest Companies Headquartered in Washington D.C. (Inc. Magazine). Prior to founding Airtower, Manny most recently served as Managing Partner for one of the oldest Maryland-based regional cell tower owners and operators named Telecom Capital Group (TCG).
While at TCG Manny led the company's new development and operations during its greatest growth periods and facilitated the most lucrative asset portfolio sales in the company's 25-year history.
"Airtower's vision is to enable the millions of wireless connections needed now and in the future by Building Owners, Property Managers, Enterprises, and Mobile Network Operators for smart building applications and their end-users. We're building the most cutting-edge wireless systems for these groups in the nation for their users while lowering the cost point at which mobile operators can deliver 5G connectivity and beyond to their subscribers."
- Manny